Meet Dr. Olexa Chewpa
I grew up under chiropractic care from the time I was a few days old. Coming from a family with two parents who are passionate and successful chiropractors gave me a lot of insight into the ethos of chiropractic and what it means to practice within a vitalist model.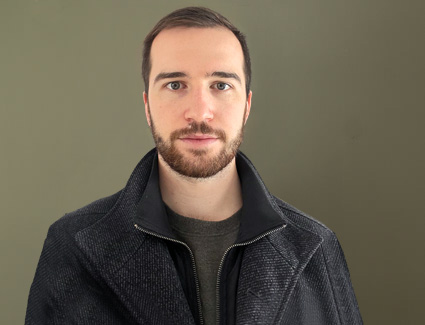 The Path to Becoming a Chiropractor
Dr. Olexa saw his parents' passion for helping people, and that was attractive to him. He also witnessed the results they got early on, as he worked at Hunt Club Chiropractic as a doctor's assistant before he began his undergraduate studies. "This time was eye-opening and forced me to get in front of patients who often were desperate for answers."
Education and Training
Dr. Olexa earned a bachelor's degree in Human Kinetics from the University of Ottawa. This is where he first got acquainted with health sciences. "I was drawn to human anatomy and neuroscience above all my other studies, and I knew I would endeavor to create a career somewhere I could work closely with it."
During his final year of undergrad, Dr. Olexa was accepted into Northeastern College of Health Sciences, where he completed his education to become a Doctor of Chiropractic.
Exploring Functional Neurology
When it was time to transition into an out-patient clinic, Dr. Olexa decided to uproot and go south to Long Island, NY, where he spent a year caring for patients under the supervision of the clinicians there. During his time in Long Island, Dr. Olexa had the unique opportunity to be mentored by Dr. Robert Melillo, a highly influential and sought after clinician in the growing field of functional neurology and clinical neuroscience.
His high level of expertise and knowledge of the brain and developmental neurology inspired Dr. Olexa to continue his own research in the field so he could better educate himself and others on how chiropractic care can influence it.
During Dr. Olexa's time working at the Melillo Center for Developing Minds in Rockville Center, he gained valuable knowledge and experience in addressing the most challenging neurological cases. "My goal is to integrate that knowledge into my patient care at Hunt Club Chiropractic.
A Passion for Staying Active
Dr. Olexa grew up ski racing and attended National Sports Academy in New York for his high school years. He had the unique opportunity to travel to places like Chile, Austria, Switzerland and Colorado to train and race. Although Dr. Olexa no longer races, he still enjoys getting out on the slopes with friends come winter time.
Other favorite activities of Dr. Olexa are trail running and hiking in Gatineau Park, cycling, and rock climbing. Staying active and playing sports has always been a key part of his life outside work.
Book an Appointment
Contact us today to schedule an appointment with Dr. Olexa!

Dr. Olexa Chewpa | (613) 739-9474