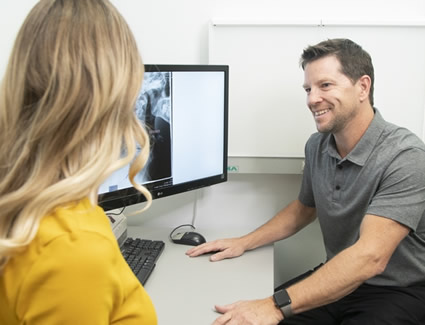 Hunt Club Chiropractic FAQ
Common Questions Answered
Here, you can find answers to some of our most frequently asked questions. Still have questions after reading through? Don't hesitate to reach out to our team.
If I go to a chiropractor once, will I always have to go?
You never have to do anything. Most people choose to use chiropractic as an active part of their healthy lifestyle, and we encourage that.
Typically, no. It is meant to relieve pain if present. If you are in an acute stage, there may be some discomfort during the adjustment, but it is usually only temporary. Our doctors will provide tips on home care to help alleviate any discomfort.
Why would someone have a baby or child adjusted?
Chiropractic care is all about optimal function of the nervous system and the prevention of future problems. From pregnancy, through birth and the bumps and falls of growing up, issues can crop up if your child is never checked.
Bringing your child in for a spinal check-up does not mean they will get adjusted. It simply means we will assess them and see whether there is a need for an adjustment.
Does insurance cover chiropractic?
Most plans do, but we always recommend to check with your provider first.
Do I need a physician's referral for chiropractic or massage?
No. Chiropractors are considered primary care doctors, so you can make your own appointment directly. You can also schedule a
massage
without worrying about a referral.
Will I get an adjustment on my first visit?
We usually adjust on the second visit after gathering information about your condition and having time to analyze it. It is, however, at the doctor's discretion following your
initial assessment
.
Will you give me exercises to do?
Every patient participates in their own recovery. At the appropriate time, we will show you exercises to speed your healing and strengthen weakened areas.
I've had back surgery. Can I get adjusted?
Yes! We have worked with many people who have had back surgery.
How long will the first visit take?
The first visit consists of a consultation, examination and X-rays, if determined necessary. Expect to be at the office for 40-45 minutes.

Hunt Club Chiropractic FAQ | (613) 739-9474